North Shore Towing provides a multitude of different types of towing service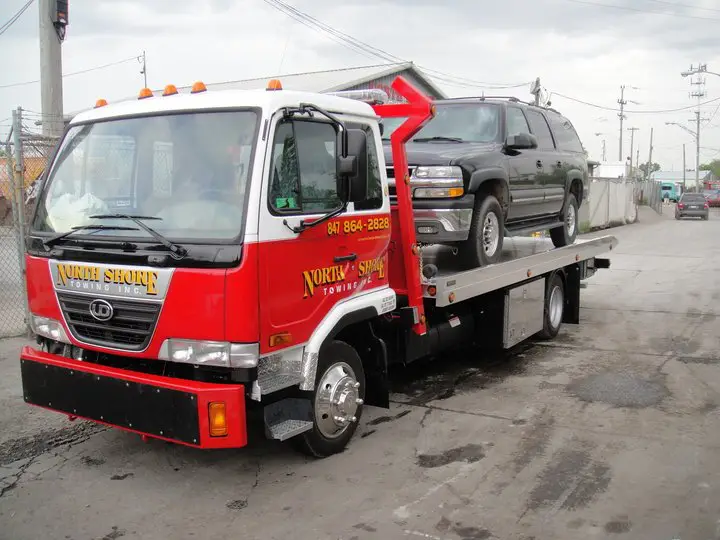 Auto Wrecking Services | Cash For Your Junk Car | Towing Services
Nowadays,
North Shore Towing
is the leading towing company within Chicagoland and bordering areas.  Because
North Shore Towing Company
began offering towing services back in 1979, our skillful Wreckmaster-trained and accredited tow truck drivers are more than capable. In fact, they've accomplished more than 1,000,000 towing jobs! 
North Shore Towing Services
is a family owned and operated company that is recognized for its outstanding fleet of 30 tow trucks, from numerous car carrier tow trucks to heavy duty, medium duty, flat beds, and wheel lifts.  We are best known for possessing the experience necessary to tow your vehicle, no matter the size. Additionally,
North Shore Towing
offers live dispatching services 24 hours a day, 7-days a week!  
North Shore Towing
acknowledges your vehicle is not going to go kaput on a weekday during the time frame of 9AM to 5PM!  When you need your car towed, the only towing services you need are:
North Shore Towing
!  Your phone call will be handled promptly each time you dial-up
North Shore Towing
!  We dispatch call-ins on a daily basis to our qualified drivers through our GPS system. 
Citizens in
Deerfield
have depended upon
North Shore Towing
for many years.  We serve our customers in
Deerfield
and their vehicles when they stop running, and we will certainly be ready to assist you, too! 
Deerfield Towing Services
Deerfield, Illinois
is located in Cook County and Lake County, 27 miles northwest of Downtown Chicago. 
Deerfield
offers expert services and solutions to help professional establishments to develop an even more lucrative business.  Along with 1st class customer support services, many popular retailers and individual stores are situated in the several shopping areas in
Deerfield
.  
You will find more than 18,200 locals in
Deerfield
.  When any resident
needs Deerfield towing services, they contact
North Shore Towing
.  That's mainly because
Deerfield
clients know that we are going to help them when their vehicles quit working!  With
North Shore Towing's
exceptionally devoted and superb crew of tow truck drivers, as well as top-of-the-line engineering in our trucks and business, our customers in
Deerfield
can count on
North Shore Towing.
We'll send out one of our experienced tow truck drivers to aid them in the event of a breakdown! When you're searching for a "Deerfield tow truck near me," let us be your first choice.
Deerfield Tow Truck Near Me
North Shore Towing
has helped Chicago and the surrounding region for more than three-decades.  Additionally, we offer our services to the neighboring states of Indiana and Wisconsin.  It doesn't matter what you require, we have the crucial equipment and services — from flat-bed towing and roadside assistance to commercial towing, transport towing, relocation towing, police towing, medium-duty towing, luxury car towing, heavy-duty towing, charity towing and much more.  
Compared to competitive towing companies,
North Shore Towing
offers the tow trucks and the talent to tow heavy-duty vehicles, such as semi tractors, RV motorhomes, and 72 passenger school buses. Whatever your Deerfield towing services need is, we can provide the answer to your query for a Deerfield tow truck near me.
Several auto shops, dealerships, police departments, municipalities, insurance companies, fleet companies and trucking companies throughout the nation utilize our Deerfield towing services. 
North Shore Towing
is the only towing company you can count on for your towing service requirements.  When you happen to be browsing for the finest towing company in the Chicago region, look no further than
North Shore Towing
! We are trusted to provide superior Deerfield towing services.
Deerfield Malls and Shopping Centers We Serve
Deerfield Square – 740 Waukegan Rd, Deerfield, IL 60015

Deerbrook Shopping Center – 110 S Waukegan Rd, Deerfield, IL 60015

Deerfield Park Plaza – 401 – 459 Lake Cook Rd, Deerfield, IL 60015
Deerfield Towing | Deerfield Tow Truck | Deerfield Towing Service | Deerfield Towing Company | Deerfield Heavy Duty Towing
We've completed 1,000,000 plus towing service jobs since the company started in 1979. We're proud of who we are, what we've done, where we've been, and where we're going. Hard work, dedication, passion, and a commitment to customer service is what this company was built on and the reason we continue to grow.