Irving Park Towing Company
North Shore Towing provides a multitude of different types of towing service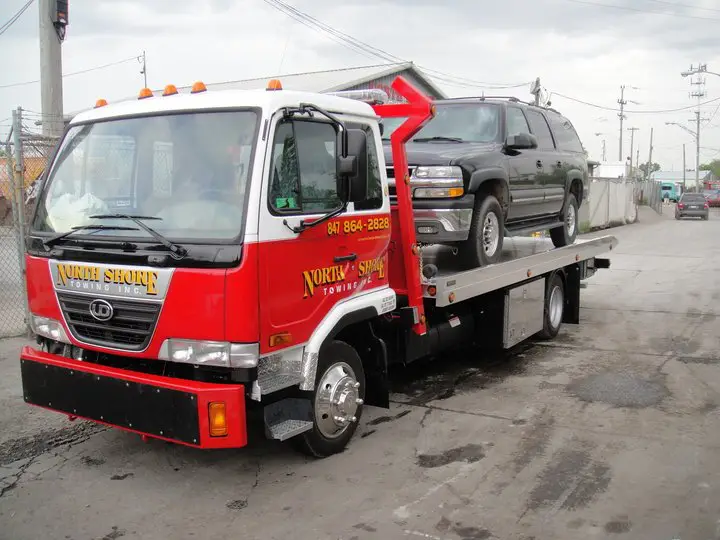 Auto Wrecking Services | Cash For Your Junk Car | Towing Services
North Shore Towing
is a well-known towing company in the Chicago area.  Since 1979 when
North Shore
started its towing company, our Wreckmaster-trained tow truck drivers have successfully completed more than 1,000,000 towing jobs! 
North Shore Towing
is a family-owned and managed company with a fleet of 30 tow trucks. Our lineup includes heavy duty trucks, flat beds, wheel lifts, medium duty trucks, and many car carrier tow trucks. We possess the experience and capability to tow any vehicle — no matter the size.  
Moreover,
North Shore Towing Services
is equipped with live dispatching services 24/7!
North Shore Towing
understands your vehicle doesn't always decide to breakdown on a week day between the hours of 9AM to 5PM.  If and when you need to have your car towed,
North Shore Towing Company
provides the very
towing services
you will need.  Your call will be promptly answered each and every time you call
North Shore Towing
.  We're ready to dispatch calls to our competent drivers via our far reaching GPS system.  
The vast majority of the residents in
Irving Park
have depended on
North Shore Towing
for decades and they continue to do so.  We can assist you, just as we have done for our Irving
Park
citizens when their vehicles stop running. Our Irving Park towing services are unmatched, and it's easy to see why!
Irving Park Towing Services
Irving Park, Illinois
is located in Cook County 8 miles northwest of Downtown Chicago. 
The area offers a variety of facilities and many expert support solutions to help professionals and businesses expand and become even more prosperous. Several nationwide retailers and independent stores are also based in the different shopping areas of Irving Park.  
More than 53,000 people reside in
Irving Park
now. When locals need
Irving towing services
, they make contact with
North Shore Towing
. With
North Shore Towing's
remarkably devoted tow truck drivers and top quality engineering in our business and trucks, our customers know they can count on
North Shore Towing
! Our Irving Park towing services simply cannot be beat.
Irving Park Tow Truck Near Me
North Shore Towing Services
has helped Chicago and the bordering states of Wisconsin and Indiana for more than thirty years.  Regardless of what is needed, we carry the essential equipment to do the job right — from flat-bed towing and roadside assistance to charity towing, police towing, relocation towing, luxury car towing, transport towing, commercial towing, medium-duty towing,
heavy-duty towing
and a great deal more. 
Unlike competing towing companies,
North Shore Towing
provides the tow trucks and the talent to tow heavy-duty vehicles, such as semi tractors, RV motorhomes and 72 passenger school buses.  A multitude of trucking companies, dealerships, auto shops, municipalities, insurance companies, fleet companies and police departments make use of our Irving Park towing services.  
North Shore Towing
is the very towing company you can depend on the next time you're searching for a Irving Park tow truck near me. When you shop for the highest quality towing company in the Chicagoland vicinity of need a Irving Park tow truck near me, look no further than
North Shore Towing Services
!
Irving Park Malls and Shopping Centers We Serve
Addison Mall — 2970 W Addison St, Chicago, IL 60618

Albany Square — 4445 N Pulaski Rd, Chicago, IL 60625

Irving & Kimball Plaza — 3403 W Irving Park Rd, Chicago, IL 60618
We've completed 1,000,000 plus towing service jobs since the company started in 1979. We're proud of who we are, what we've done, where we've been, and where we're going. Hard work, dedication, passion, and a commitment to customer service is what this company was built on and the reason we continue to grow.