Over 35 years of experience businesses can trust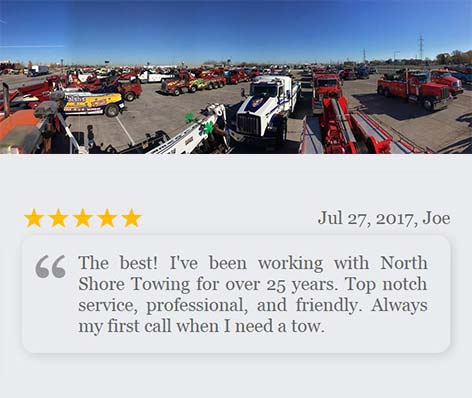 Chicagoland corporations work hard 24/7 and because of that they need honest, reliable partnerships that they can count on- day or night. North Shore Towing IS that partner. We have been keeping your trucks on the road for over 35 years and we are THE #1 choice when it comes to corporate towing solutions in the Chicagoland area.
Call 1-800-XXX-XXXX to Learn More
35+
Years Experience
24
Hour Service
365
Days a Year
150+
Google Reviews
North Shore Towing is Reliable
With two locations in Evanston and North Brook, we are strategically located to provide you with the fastest possible response times in the Chicago area. Our fleet of over 30 state of the art recovery vehicles has built in equipment redundancies and advanced GPS dispatch tracking so you can have real-time updates on your jobs progress.

Need safe storage in a pinch? Our secured fenced in lots will keep your trucks secure.
Corporate Services
Medium & Heavy Towing
Need the job done right the first time? That's why all of our towing technicians are Wreckmaster Trained and Certified. We work hard to ensure your trucks and equipment are transported damage free and safely every time. We are experts at the physics of heavy loads. Our state of the art fleet of 35 ton and 100 ton wreckers is maintained daily to ensure we are ready for action whenever you are in need.
Landoll (Flatbed) Towing
Our landoll tow trucks are quintessential for a variety of transport needs. Every day we service and transport buses, rv's, steamrollers, tractors, forklifts, front-end loaders, and even machinery and equipment. North Shore is meticulous about ensuring the safe transport of your medium duty machinery.
North Shore Towing is Reputable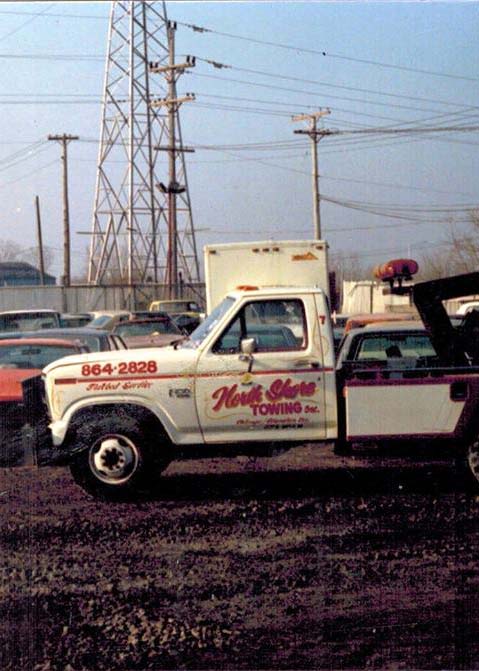 North Shore Towing stands out by acting with integrity and offering THE highest quality service to our customers on a daily basis. We always quote you an honest service ETA, and fair price.

We don't just take care of our customers, we take care of our employees too. We have been in business over 35 years and much of our team has been with us 20+ years. This means you know you have a technician you can trust to handle your property with skill, experience, and care.
Specialty Towing
If you need to move a piece of equipment or machinery our specialty towing services might be just right for you.

Tractors, steamrollers, front loaders, highway barriers, and commercial construction materials are just a few of the things that we can move.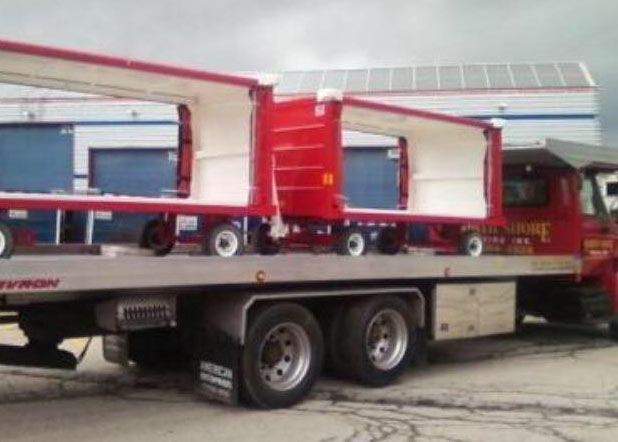 Load Shifting
So you are driving down the road and you stop suddenly or you take a tight corner however your load isn't tied down tightly. Now your trailer is leaning to one side and it isn't safe to drive. North Shore Towing is experienced at rapid load shifting trucks of all sizes to keep you safe and get you back on road quickly.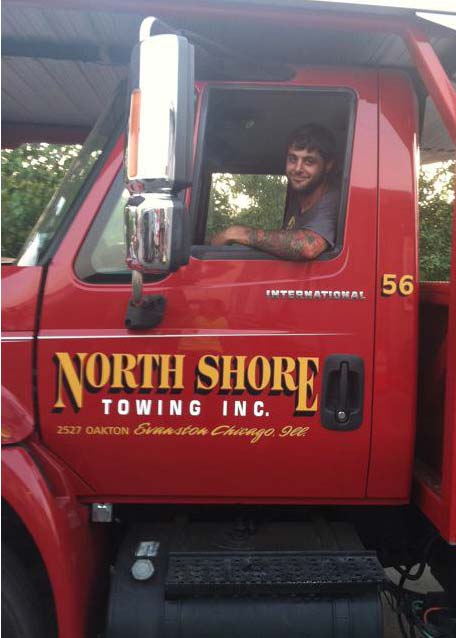 We recognize that when you hire us to do a job you are trusting us with your property, we make it a point to treat it with respect. Our Wreckmaster Certified Technicians have had rigorous training to learn the physics behind towing, they literaly have it down to a science.

Our #1 goal – Exceed your expectations in every way! Call us today, we can help your business maintain a competitive edge.
Winch- Outs
Do you have a vehicle stuck under a low bridge or in some other precarious situation? North Shore Towing offers winch-out services to help. Call our dispatch center for more information and a quote if you end up stuck.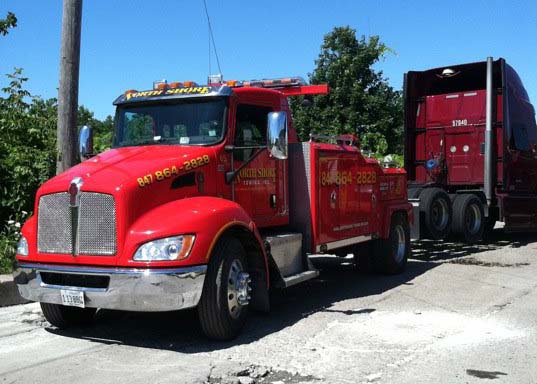 Tractor Swaps
If your tractor breaks down and you don't have time to wait for a repair North Shore can help. We will pick up your tractor, swap it out, and work to get you back on the road as quickly as possible. Our partnerships with a variety of truck leasing companies help us to ensure fast swaps and rapid service.
Rental Truck Towing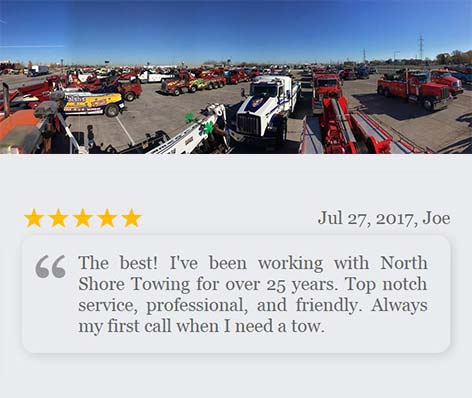 When it comes to rental vehicles, we know your time is valuable. Should you break down, North Shore offers a variety of options to help get you back on your way. We work with you to find the best solution, from towing you to a garage to bringing you a replacement truck, transferring the loads and getting you back on the road.
Our Customers
North Shore Towing services a full range of commercial accounts, delivery companies, paving companies, public utility companies, municipalities, repair garages, dealerships, governmental agencies, and a variety of other businesses.

If you need a tow, or commercial truck services North Shore Towing has you covered. Call and speak with one of our live dispatchers today.
Customer Testimonials
"Thank you so much for such excellent service ! Even though I was told someone would show up in an hour or less, I never expected to see the tow truck that quickly (1/2 hour)..
What fantastic service !!! "
Mary
"North Shore Towing provided superior service, very friendly and helpful driver as well. Thanks for the great service.
-Glen
I have used other medium duty towing companies in the past and this was by far the best service I have ever had. Would highly recommend them to anyone.
-John